Welcome to my page! My name's Krystl. neVar is a nick i use on some chats and message boards. I live in Saskatchewan in a pretty town called Saskatoon. I'm married to James who i love VERY much and am very happy with. We live in a small apartment with our fish (four tanks and a bunch of bowls). We have two cats, Dusty (mine) and Nicki (James').
I work at Carlton Cards here in the mall as the Assistant manager. I really like my job, the things we sell in our stores and the people that i work with.
In high school i was involved in Graphic Arts and Drama. I was the publisher of the school newspaper for two years and directed two plays in my senior year. Pastiche which i co-directed when to the regional festival and we got awards as the most promising directors. In my spare time i ride my horse Sierra. You can find out more about her on my Riding page.
The Wedding
Pictures
Photography
My Cat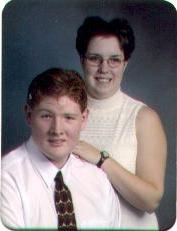 James and I
Counter by Rapid Axcess
kraven@dlcwest.com
Anyway follow the links below to go to more pages of mine that have lots of pics and more info on my interests.
Design
Riding
Our Fish
Sign Guestbook
View Guestbook