Ponies
---
Breed: Pinto
Age: 6
Color: pinto
Height: 13.1 hh
Discipline: english
Comments: Registered pinto pony mare. Super prospect for Combined training.
Jumps 2' 9", trailers, bathes, changes leads over jumps, and has a big
stride. Ready for an intermediate rider.
Located in Colorado.
Price: $3500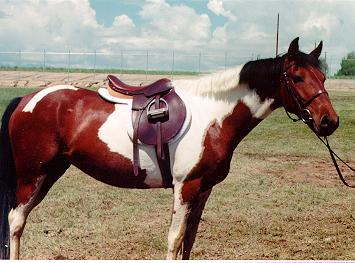 Owner Name: Doris Logan
Phone: 719-495-2663
Email: windy-meadow@juno.com

---

Name: Ballarina

Breed: welsh pony

Age: 2

Color: Dark bay

Height: 12.2hh

Discipline: english/hunters

Comments: Rose Hill Stables proudly offers for sale Ballerina,
a 2 year old Registered Welsh Pony. She is a dark
bay with 3 white socks and a big white blaze. She
looks like a tiny Thoroughbred. She will be an "A"
circuit pony. She is a knock out. Priced at $12,000,
but soon to increase. Please, serious inquires
only: Felicia@RoseHillStables.com. Video is
available as well as pictures on our website
http://www.rosehillstables.com

Price: $12,000


Owner Name: Felicia Abbott
Phone: 972-924-2549
Address:
Email: Felicia@RoseHillStables.com.