I first started riding cloudy in the summer of 1994 when i was out a the barn but could not ride as my horse (Pizzazz) was on holiday after the big show. Immediently i fell in love with him. This suprised everyone as he was extremely thin, could not jump, and was a biter and a kicker. Elaine let me keep riding him and with work i found he had all the training in him he had just lost most of it over the last few years. Shawna (elaine's daughter) started jumping him again and he was wonderful going from not being able to get over a fence
to jumping 3'6. I bought him that winter right befor Christmas.
Over the three years i showed him we did many different divisions from childerns hunters up to combined hunters, and three foot six jumpers and hunters. IN 1995 we were the high point zone champion, something i was very proud of as it was against all the western riders as well. I sold Cloudy in August 1997 to Ashley Chomye from edmonton alberta.
Cloudy passed away from colic in 1999. He will be greatly missed. I think Ashley for loving him so much, giving him a home when i could no longer and for always knowing how special he was. I love you Cloudy and hope you are now in a place with no pain, no problems jumping and racing and being a true horse once again.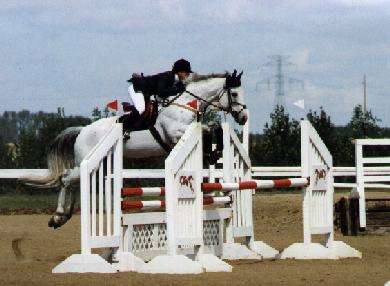 Cloudy with Ashley in 1998